Markus Groß / Robert M. Kerr (Hg.)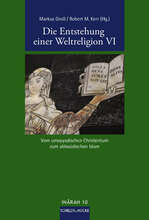 Die Entstehung einer Weltreligion VI
Vom umayyadischen Christentum zum abbasidischen Islam
Markus Groß / Robert M. Kerr (Hg.)
Schiler & Mücke


Language: German, English, French


1

. Edition (

2021

)
Hardcover,

862

pages
ISBN

9783899303896


Availability: next-day delivery


68.00

€ Add to Shopping Cart

Mit diesem, dem zehnten, Band der Schriftenreihe INÂRAH beginnt die Nova Series: Die Beiträge erscheinen nun in der jeweiligen Sprache der Autorinnen und Autoren. Abstracts aller Beiträge auf Deutsch, Englisch und Französisch sind am Ende des Bandes beigefügt.

Mit Beiträgen in deutsch, französisch oder englisch zum koranischen Vokabular, zu den Beziehungen zwischen Koran beziehungsweise Islam einerseits und dem Christentum beziehungsweise dem Neuen Testa­ment andererseits, zu Veränderungen der islamischen Dogmatik und deren Widerspiegelung in Manipulationen an Koranmanuskripten, zu literarischen Zeugnissen über die islamische Frühgeschichte, zu einem der Rätsel des Korans und anderem.

Nous sommes heureux d'annoncer la publication du volume 10 de notre série, qui contient de nombreuses études sur les origines de l'Islam et du Coran qui reflètent l'état actuel de la recherche scientifique, dont beaucoup ont été présentées lors de nos colloques en 2018 et 2019. 
Ce volume contient des contributions en allemand, français ou anglais sur le vocabulaire coranique, les relations entre le Coran ou l'Islam d'une part et le Christianisme ou le Nouveau Testament d'autre part, les changements dans la dogmatique islamique et leur reflet dans les manipulations des manuscrits coraniques, les preuves littéraires sur l'histoire ancienne de l'Islam, l'un des mystères du Coran et d'autres. La liste des contenus se trouve dans la pièce-jointe.

We are pleased to announce the forthcoming publication of Volume 10 of the Inârah series, which contains numerous studies on the origins of Islam and the Qur'an that reflect the current state of scientific research, many of which were presented at our symposia in 2018 and 2019. 
This volume with contributions in German, French or English on Quranic vocabulary, the relations between the Quran or Islam on the one hand and Christianity or the New Testament on the other hand, changes in Islamic dogmatics and their reflection in manipulations of Quranic manuscripts, literary testimonies on Islamic early history, one of the mysteries of the Quran and others. The list of contents can be found in the appendix.