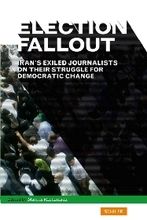 Election Fallout
Iran's Exiled Journalists on their Struggle for Democratic Change
Marcus Michaelsen (Hg.)
Verlag Hans Schiler


Sprache: Englisch


1

. Auflage (

2011

)
Broschur,

250

Seiten
ISBN

9783899303445


Verfügbarkeit: sofort lieferbar


19.80

€ In den Einkaufswagen

The 2009 presi­den­tial elec­tions and the surroun­ding events repre­sent one of the most dramatic moments in contem­porary Iranian history. The massive demon­s­t­ra­tions over the offi­cial elec­tion results soon evolved into a broad protest move­ment deman­ding civil rights and political change, confron­ting the Islamic Repu­blic with a signi­fi­cant crisis. When the Iranian regime responded with wide­s­p­read repres­sion, jour­na­lists were among its main targets – many were arrested, or pres­su­rised, and some are still in prison; more than 100 have left their country in the biggest exodus of jour­na­lists since the Islamic Revo­lu­tion of 1979. In this book, 12 Iranian jour­na­lists, exiled after the elec­tion crisis, deliver poignant acco­unts of the events and their personal expe­ri­ences during those days. In their arti­cles they describe the agita­tion during the elec­tion campaign and the initial protests as well as the period of repres­sion and arrests that followed. Others analyse the key moments of the protest move­ment or reflect on their life and work in exile. All authors hail from a new gene­ra­tion of profes­sional jour­na­lists deeply involved in the struggle for reform and the demo­c­ra­ti­sa­tion of Iran's Islamic Repu­blic. Their writings not only provide records of the turbu­lent deve­lop­ments after the elec­tions, but also attest to a political culture that cannot fail to change their country.

(DE-101)1015432379
(ISBN13)9783899303445
(OColc)766123265
iso639-2/eng