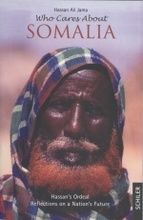 Who Cares About Somalia
Hassan's Ordeal - Reflections on a Nation's Future
Hassan Ali Jama
Verlag Hans Schiler


Sprache: Englisch


1

. Auflage (

2005

)
Broschur,

144

Seiten
ISBN

9783899300758


Verfügbarkeit: sofort lieferbar


5.00

€ In den Einkaufswagen

This book is about a Somali civil war and the fall of the Siad Barre regime. It is about how people living there at the time did really suffer from it as a result. Although it prin­ci­pally relates to a family,the book tells an applicable story of flight, provi­sional shelter and finally exile. It is also about the political history of Somalia and about Somali ethni­city in general, and the book discusses the future of the Nation and how inter­na­tional and regional powers are involved in playing their sometimes influ­en­tial roles in its intri­cate and comp­li­cated political path. For Somalis, inter­na­tional obser­vers, histo­rians and scho­lars alike one hopes these few lines shall offer some ideas to ponder and some more food for thought.

(DE-101)974218529
(ISBN10)3899300750
(OColc)254945595
iso639-2/eng